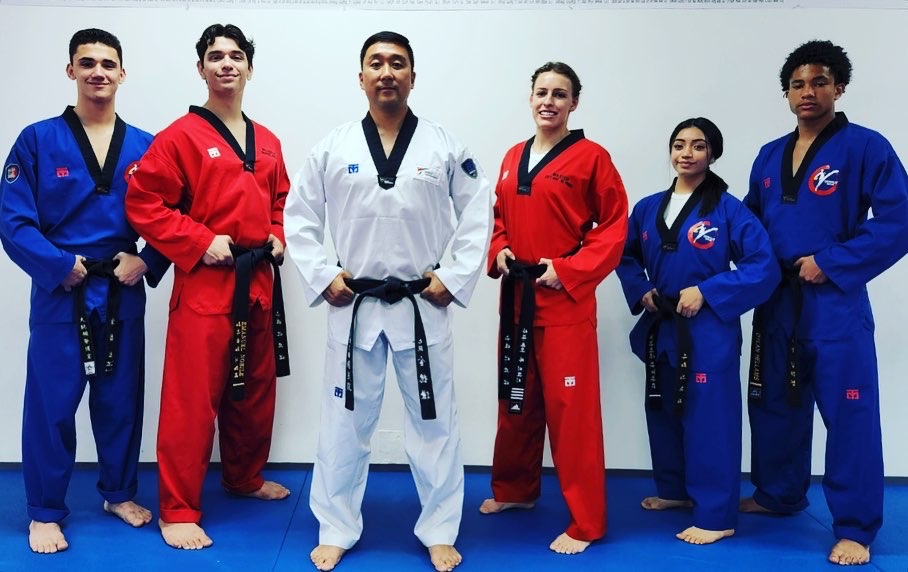 We do our best to see you become the best version of yourself.
Our team members are trained and certified in teaching Olympic Taekwondo and Judo, but more than that, our goal is to strengthen each student's mind. We teach to make each student a better person. We want to see our students set and achieve new goals, excel in school, reach out to their community, and show overall respect and compassion for all that's around them. Come learn what it truly means to be a black belt.
It's not just a color.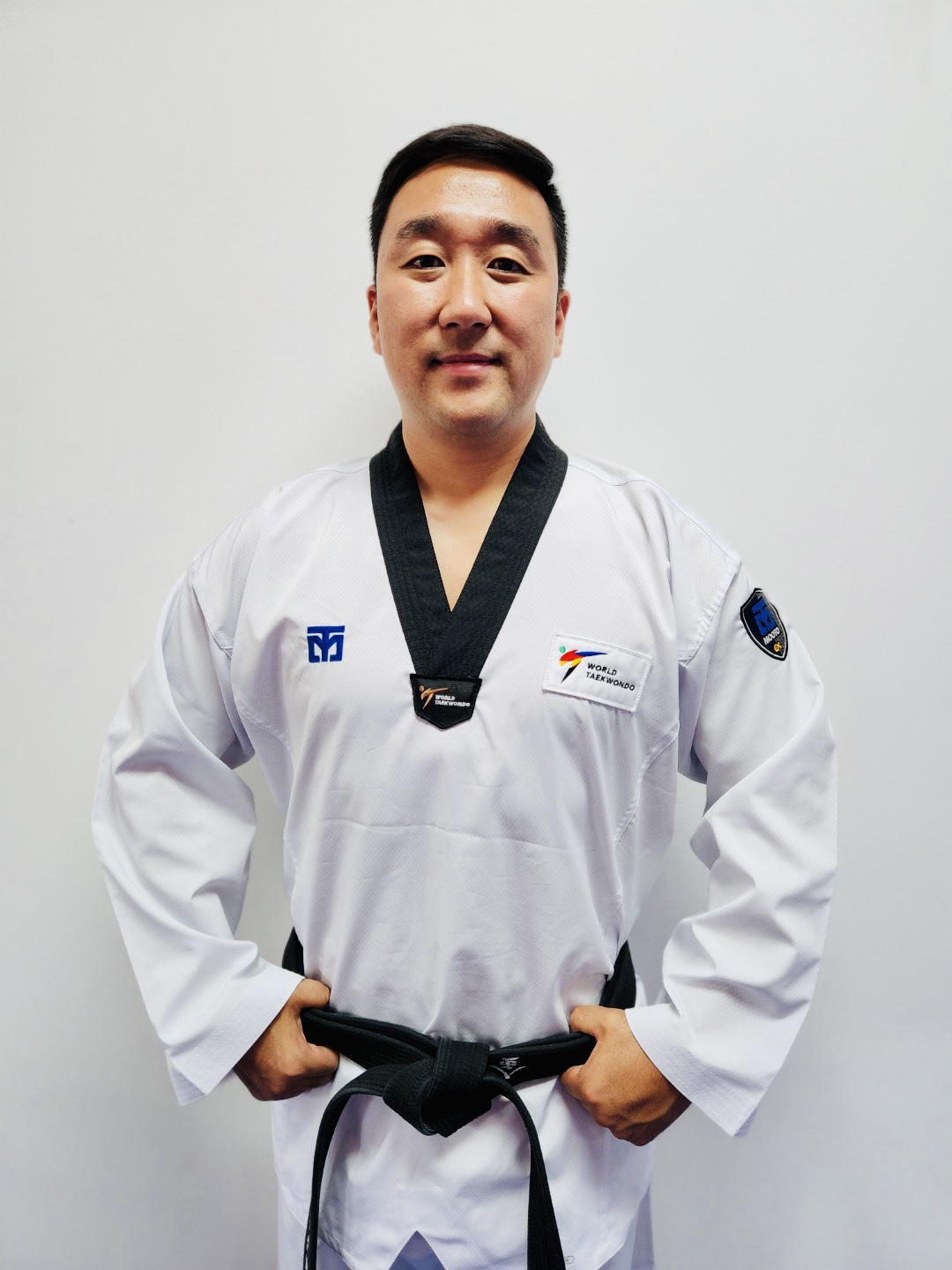 Master Kim (Duke Kim)
Owner & Grand Master at Supermaster Kim MAA
Graduated from Chung-Ang University (2002 / Seoul, South Korea)
[Majored in Sports Science and Physical Education]
7th Degree Black Belt in Taekwondo (2019)
[KUKKIWON – World Taekwondo Headquarters]Studied Judo at Waseda University (2008 / Tokyo, Japan)
5th Degree Black Belt in JUDO (2017)
[Korea Judo Association and USA Judo]
Blue Belt in Brazilian Jiu-Jitsu (2017)
[Paul Creighton Mixed Martial Arts]
R.O.K SPECIAL WARFACE COMMAND #653 (2005)
Republic of Korea The 16th President (Roh Moo-hyun)
Presidential Security Service Agent (2007)
Formal Yong-In Tiger Martial Arts Head Instructor In Johns Creek, GA (2009)
Supermaster Kim Martial Arts Academy Owner / Grand Master In Cumming, GA (2010)
National Judo Coach in USA Judo (2022)
Master Jay (Judy-May du Preez)
Manager & Head Instructor at Supermaster Kim MAA
4th Degree Taekwondo Black Belt (Kukkiwon – World Taekwondo Headquarters)
Judo 1st Keup (KJA – Korea Judo Association)
Studied Computer Information Systems (CIS) and Cyber Security at the University of North Georgia.
Instructor Emanuel (Emanuel Nobile)
Instructor at Supermaster Kim MAA
1st Degree Taekwondo Black Belt (Kukkiwon – World Taekwondo Headquarters)
Judo 4th Keup (KJA – Korea Judo Association)
Instructor Brice (Michael Brice)
Instructor at Supermaster Kim MAA
1st Degree Taekwondo Black Belt (Kukkiwon – World Taekwondo Headquarters)
Judo 6th Keup (KJA – Korea Judo Association)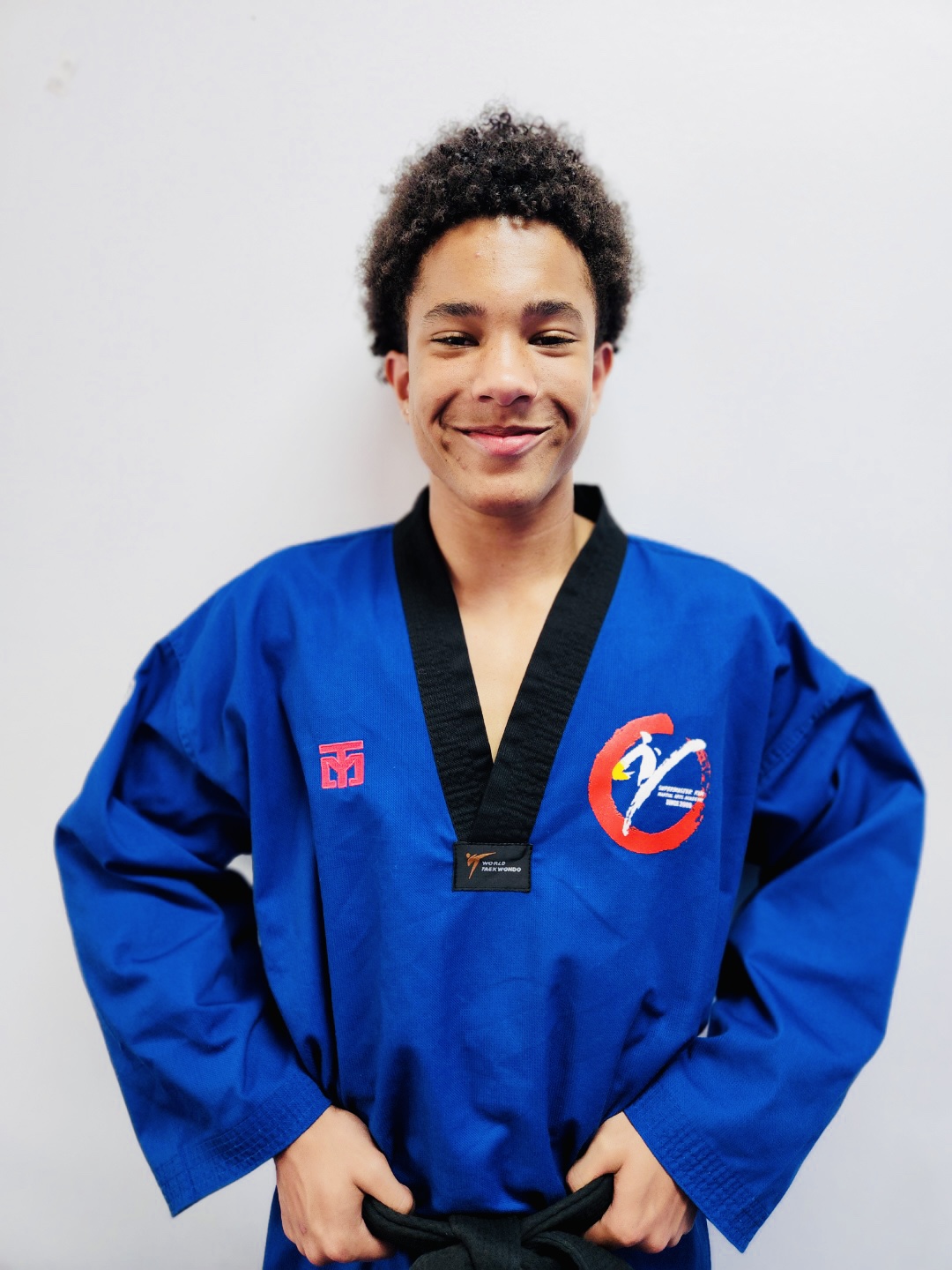 Assistant Instructor Dylan (Dylan Hellams)
Assistant Instructor at Supermaster Kim MAA
1st Degree Taekwondo Black Belt (Kukkiwon – World Taekwondo Headquarters)
Judo 4th Keup (KJA – Korea Judo Association)
Assistant Instructor Dayanna (Dayanna Taboada)
Assistant Instructor at Supermaster Kim MAA
1st Degree Taekwondo Black Belt (Kukkiwon – World Taekwondo Headquarters)
What Should I Look For When Deciding Which Studio is Best For My Child?
When choosing a martial arts studio, there are some important questions to ask before making any decisions.
While websites and phone conversations are helpful, it's also a good idea to visit the schools you are choosing between in order to have a more vivid idea of what the classes are like.​
Does the studio have a friendly atmosphere?
Are there certified instructors involved in the class?
Is there a good balance between fun and learning?
Where is the studio located and what does the facility look like?
How does the class schedule work?
Is the instruction sufficient and effective for my child?
What is the Difference Between Tae-Kwon-Do and Karate?
Karate originated in Japan and focuses mostly on hand techniques. Taekwondo, however originated in Korea and focuses more on kicking techniques. (Tae = Foot, Kwon = Fist, Do = The Way)
What are the benefits of kicking techniques in relation with hand techniques?
Hand techniques are useful when in close-range with the opponent. With the precision our hands allow us, we can target pressure points and weak spots in our opponents.
Kicking, however, is more useful when defending from a distance. Yes, there are kicks that can be used when in close range with our opponents, but keeping a distance is the safest choice. Kicking also holds a significant advantage in power and force due to leg strength in relation to arm strength. Legs are estimated to be 7 times stronger than arms.
What is the Difference Between Judo and Jiu Jitsu?
Judo, an official olympic sport, originated in Japan. Eventually, Jiu Jitsu branched from Judo and became a sport itself. While Judo focuses mostly on standing skills such as throws and take-downs, Jiu Jitsu focuses mostly on grounding skills such as chokes and bars. Both sports teach both aspects, standing and grounding skill, but the difference is how the sports divide the attention on the two subjects. Judo is about 90% standing skills and 10% grounding skills, while Jiu Jitsu is just the opposite at about 10% standing skill and 90% grounding.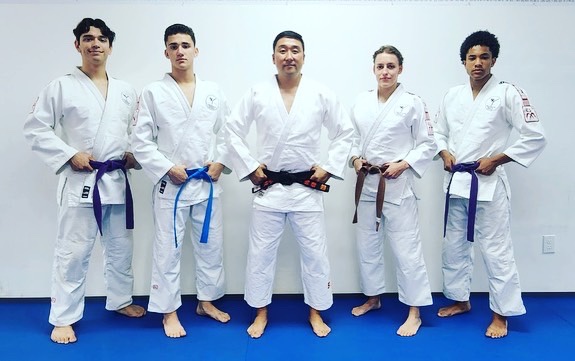 See what our members are saying
Master Kim has given our children amazing gifts through his Taekwondo instruction. Both of our children have made tremendous progress in focus, confidence, respect, self-control, and physical agility. These improvements are evident not only in Master Kim's classes but at school and at home. Teachers and other family members have commented on the change that they have seen in our children over the past year. He is a tough but fair leader that communicates his expectations and standards and holds the students to them. In doing this, he provides a structure that students are able to excel. We consider Master Kim as an extension of our family, and I would recommend him to anyone.
Our son has been a student with Master Kim for about 5 years. Master Kim teaches Taekwondo in the true spirit of the sport. We have seen our son grow in self confidence and skill with every passing year. Under Master Kim's guidance and training, our son now has a second degree black belt and is very motivated to pursue more advanced levels. We appreciate the commitment and dedication with which Master Kim teaches Taekwondo and would highly recommend his studio to others.
Master Kim has done wonders for our 11 year old daughter. She has tried every imaginable activity and nothing stuck until she found his studio. She can't wait to attend each session. She is more physically fit and more organized. She shows more respect than she ever did before and acts more like an adult. It is making her into a more mature young lady. Not only is she able to protect herself and defend others, but it is literally transforming her character. 100% of success goes to Master Kim and his innovative way to teach and guide his students. Thank you so much for everything you have done for our daughter and for us!
Master Kim is an incredible coach and advocate for the students. Our 11 year old Son has learned so many skills from discipline to physical fitness to focus and language. We couldn't be happier with this program and our Son loves all the challenges and comradery involved. We would recommend Supermaster Kim's program to anyone. Thank you SMK for all your coaching and passion!
Both of my boys have been a part of Master Kim's studio for the past 6 years, and we have had nothing but a great experience!! Master Kim treated my baby, 4 at the time now almost 9, like his own son, and my 12 year old has learned so much from Master Kim, receiving his black belt and winning multiple competitions with this studio! I would HIGHLY recommend Master Kim and all of his staff to any and everyone!! They are AMAZING!!
My 7 year old daughter looks forward to going to Master Kim's Taekwondo every week. Master Kim is very good with children. My daughter loves the sparring and does her best there. We feel it's a very good program and helps kids to be focused and confident. The intructors are very good and keep it fun yet disciplined at the same time. I would highly
Master Kim has taught my boys so much. Not only are they learning Tae Kwon Do, they are learning how to improve their young listening skills and their discipline. I would highly recommend SuperMaster Kim's academy!
Both of our kids are practicing Tae Kwon Do in Supermaster Kim Martial Arts Academy. Our elder son is going to get 2nd degree soon, and we have been associated with Master kim's academy for 3+ years. Master Kim is a great person, well committed, dedicated, and also has excellent instructors. I also have recommended Master Kim's studio to many of my friends.
My kid has been going to the academy for a few months now, and she absolutely loves it. Master Kim is very professional and pays attention to the students. The staff is very good with kids and friendly. They make learning a lot of fun.
Thank you master Kim for you hard work! My son is more confident in himself and tries hard to do his best.
We are very happy to be a part of your team.
My daughter just started couple weeks ago. I was a bit worried since she is very shy and never tried martial art before. However, the atmosphere is really friendly here. Master Kim always remembers your kid's name and gives attention to each kid personally. At one lesson, my kid just recovered from a cold and looked a bit pale, and Master Kim immediately noticed that and kept asking if she's ok. My daughter is happy and enjoying her Taekwondo lessons here.