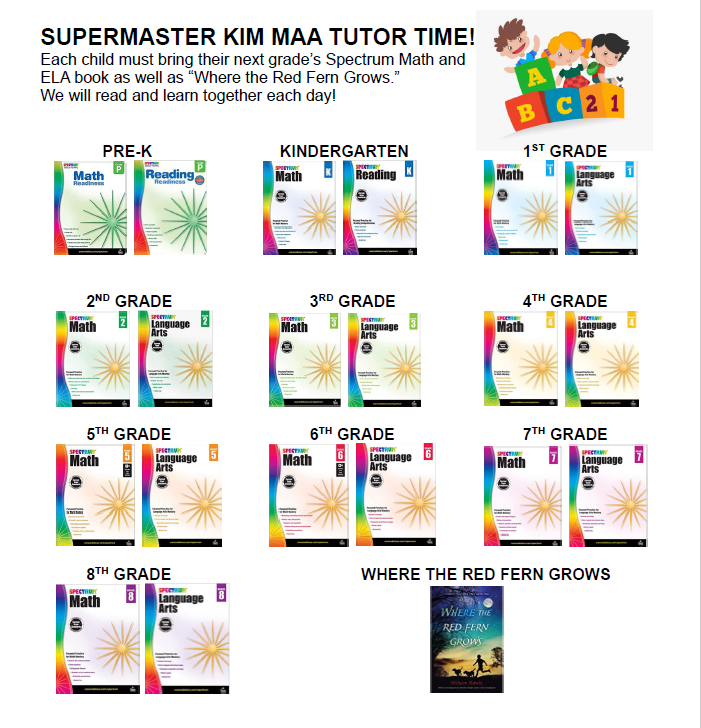 Supermaster Kim MAA Camp Hours
Camp Hours: 9:00am – 3:00pm
Early Drop Off: 8:00am – 9:00am ($25/camper/week)
Late Pick Up: 3:00pm – 4:00pm ($25/camper/week)
Camper Rates (includes fieldtrips & pizza parties)
1st Camper: $195 / week
2nd Camper: $180 / week
3rd Camper: $165 / week
4th Camper: $150 / week
Registration Fee: $95 per camper ($50 discount + free tshirt when registering for 3 weeks or more)
Camp Activities: Taekwondo, Judo, tutoring for next grade (Math & ELA), life skills, languages (Korean & Japanese), science experiments, water guns, games, crafts, and more!
Requirements: All campers must wear a camp tshirt and bring their own snack, lunch, water bottle, and tutoring books. If camper does not bring a studio tshirt, we will provide one and charge the card on file. Please purchase the math & ELA book for your child's next grade.
Having issues with the online registration form?
Feel free to download the form, fill, and email it to us: [email protected]
Have any questions? Send us a message!
We aim to reply within 24 hours.